Preferences: Processor
Options in the Marked 2 Preferences (⌘,), Processor pane: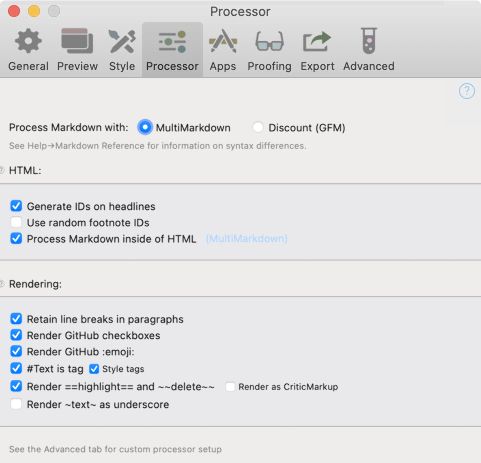 Process Markdown with
Default Markdown processor. The Discount processor is preferred for GitHub users, MultiMarkdown is ideal for writers. Marked compensates for some differences between syntax. See Help->Markdown Reference for additional information.
HTML
Generate IDs on headlines

Generate header IDs based on contents of h1-h6 tag.

Use random footnote IDs

Generate random footnote IDs to avoid conflicts when multiple documents are displayed on the web.

Process Markdown inside of HTML

By default, Markdown inside of HTML tags is usually ignored. This option forces Marked to continue processing within block elements. Note that some markup may cause issues.
Rendering
Retain line breaks in paragraphs

Respect line breaks in paragraph text, replacing with hard breaks instead of concatenating with the previous line.

Render GitHub checkboxes

Render - [ ] and - [x] for creating checkboxes in lists. Checkboxes are rendered for preview but not functional within Marked.
---
Search | Support Site | Knowledgebase | Legal | Privacy | Twitter